Whilst the majority of Australian's still drive to work, a rapidly emerging bike culture is sweeping across the country – particularly in Western Australia, where census statistics suggest over 22% of residents ride a bicycle at least once a week (with a national average of 18%).
This comes on the back of rising fuel prices, increasing environmental awareness, and Government campaigns such as WA's "Cycle Instead" initiative, which in coalition with the Department of Transportation are helping to develop shared paths, on-road cycling infrastructure and public end-of-trip facilities.
At Davidson Projects, we are also noticing the rapid increase in production of end-of-trip facilities, becoming a near standard feature in most of the big buildings in Perth. End-of-trip facilities offer cyclists a place to shower, change clothes, and store their bikes as needed…
They also offer a place to change and freshen up for those who enjoy a walk, jog, or work-out before work, or during their lunch break… for the benefit of the active people, and those sitting next to them in the office!
This trend is only suspected to increase, as Governments invest in environmentally friendly options over fossil fuels, and businesses show a commitment to their employees and to a healthier lifestyle. We've even noticed commercial and residential buildings beginning to sacrifice car park space for bike storage.
End Of Trip Facilities
As industry leaders in commercial fitouts and office refurbishments in Perth and Western Australia, we've been involved in the construction of end-of-trip facilities including:
In-Office Bicycle Storage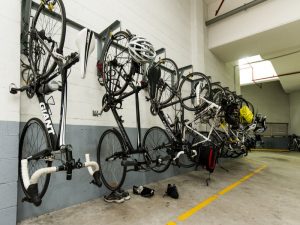 With cyclists increasing, businesses are investing in places to store bikes that keep them safe, and out of the way. Many commercial buildings are installing on-wall bicycle racks in a dedicated area of the office. This is not only convenient, but is becoming synonymous with a forward-thinking, modern work place.
Change Rooms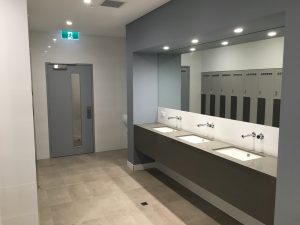 Installing change rooms, including showering facilities, is an essential solution to sweaty cyclists and active people in the work place. It's important for employers to show they care about and support a healthy lifestyle, and is also kind to those who don't exercise, as it doesn't force them to sit next to sweaty colleagues all day!
Lockers
With the increase in people performing before-work or during-work physical activity, and therefore changing clothes regularly… locker rooms are becoming an essential instalment in the modern workplace. These provide employees a place to store their change of clothes, as well as important valuables and toiletries.
If you're interested in installing modern end-of-trip facilities in your new or existing building in Perth, or surrounding Western Australian areas, contact the expert office fitout and refurbishment professionals at Davidson Projects today for enquiries or quotes.