Time to give your office a facelift? Brightening up your surroundings, and bringing your office services bang up to date can do wonders for the productivity of your workforce. But you're probably painfully aware that an office refit is something you have to get right first time.
A good fitout provider will help you avoid the worst pitfalls, and will be able to help a client who has carefully considered their needs to realise them. But many business owners find it difficult to structure their thinking when it comes to office refurbishment. Although we are not designers, we are happy to work with your chosen designer or to recommend one of the many designers we collaborate with. This article looks at 5 aspects of office design that you should consider before embarking on your fitout project with Davidson Projects. They also provide you with an opportunity to reappraise, and possibly streamline, your workflow.
Optimizing the available space
You pay by the square metre, so it makes sense to use every one of them wisely. Often, this doesn't mean literally maximising the use of space. The doctrinaire "open plan" office ideas of the 70s have been replaced by a kinder philosophy in which spaces are divided and sightlines broken to create human-scale areas that are pleasant to occupy yet productive to work in. Measure your office footprint, and spend some time with your workforce considering alternative layouts. Know how many people need to be accommodated in the area you have. How many will require an office with a door? Which people need to be near each other? Will you be utilising hot desks or temporary work spaces?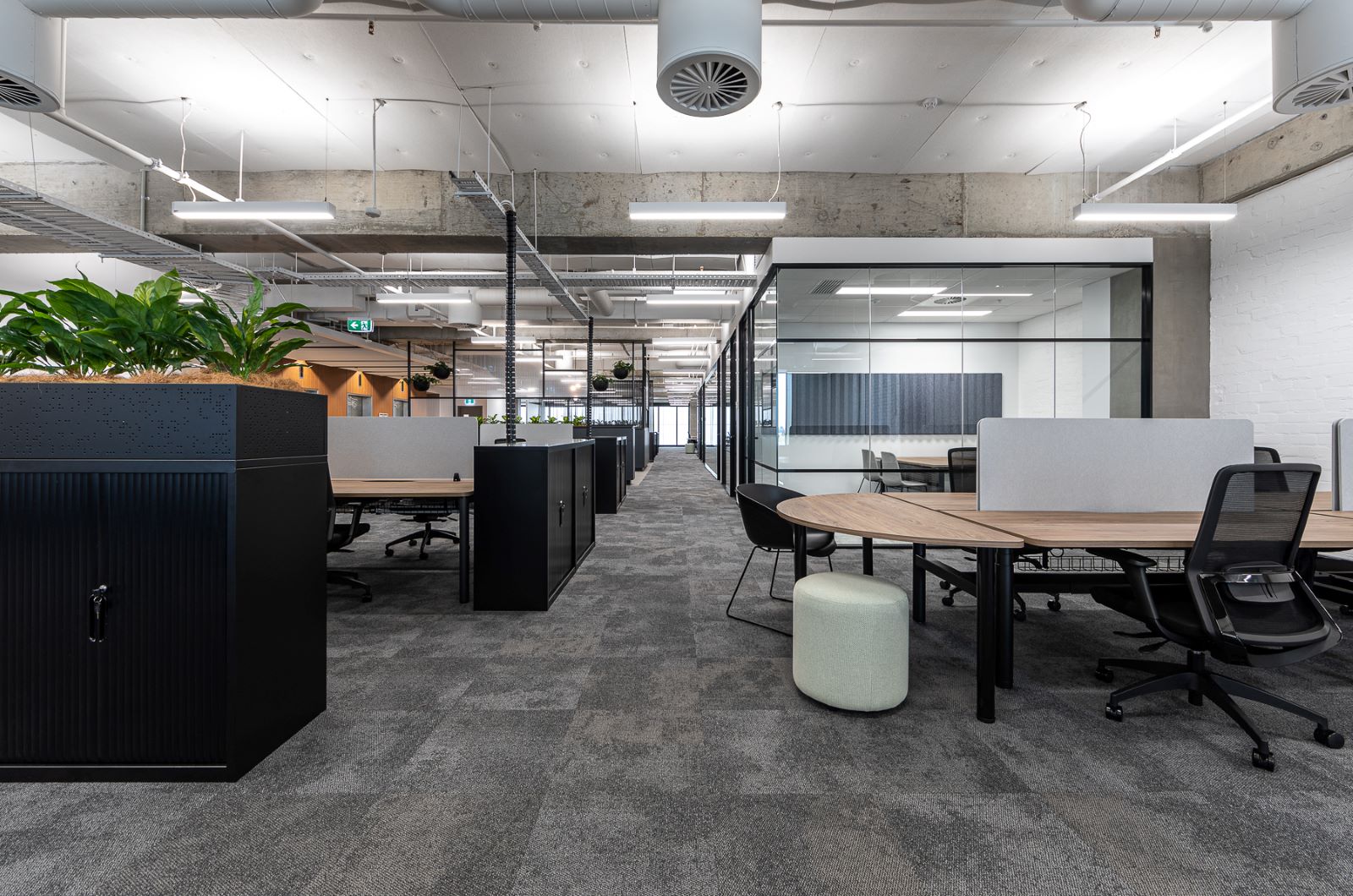 Replace furniture with ergonomic designs
For the last decade or more, progress in furniture design has focused heavily on ergonomic improvements. And with good reason – office employees spend the majority of their working day seated, and the quality of their furniture is crucial to their welfare and productivity. One of the bugbears of modern office chairs is the product with features that work fine when you try it – height adjustable, rake adjustable, perhaps variable lumbar support – but starts to lose its functions one by one after a few months. We've even heard of chairs that developed a deafeningly loud "leather creak" after a few weeks of use. When reviewing furniture online, make sure you find some reviews by actual users who have had them long enough to break them!
Consider building lounges or breakout areas for meetings and relaxation
Modern office life is far less compartmentalised than it may have been when your last fitout was done. Networked laptops enable different groups to meet briefly or for extended periods to solve common problems. Modern office design should include breakout areas that can be used either for such ad hoc meetings or simply as a pleasant, and pleasantly lit, place for workers to take a break.
Choose Your Lighting With Care
Like office furniture, office lighting has undergone continuous development since your last refit. As well as reducing energy consumption, it's now possible to buy lighting that delivers a much kinder, warmer spectrum than the harsh artificial light so often found in the offices of the 20th century. Knowing what each space will be used for will help your designer find the right lighting solution for you.
Natural Light – Perhaps because we pay so much for our electricity, we also make much better use of natural light than we used to. Consider extending existing windows, bearing in mind that suitable blinds can allow you to benefit from natural light, while preserving your privacy.
Endow Your Office With a Little Branding
A refit is a good opportunity to think about your branding, and how you want to reflect it in the design of your office. There should be a general aesthetic agreement between your office stationery, for instance, and the styling of your office. And both should speak to the core values you embrace as a business.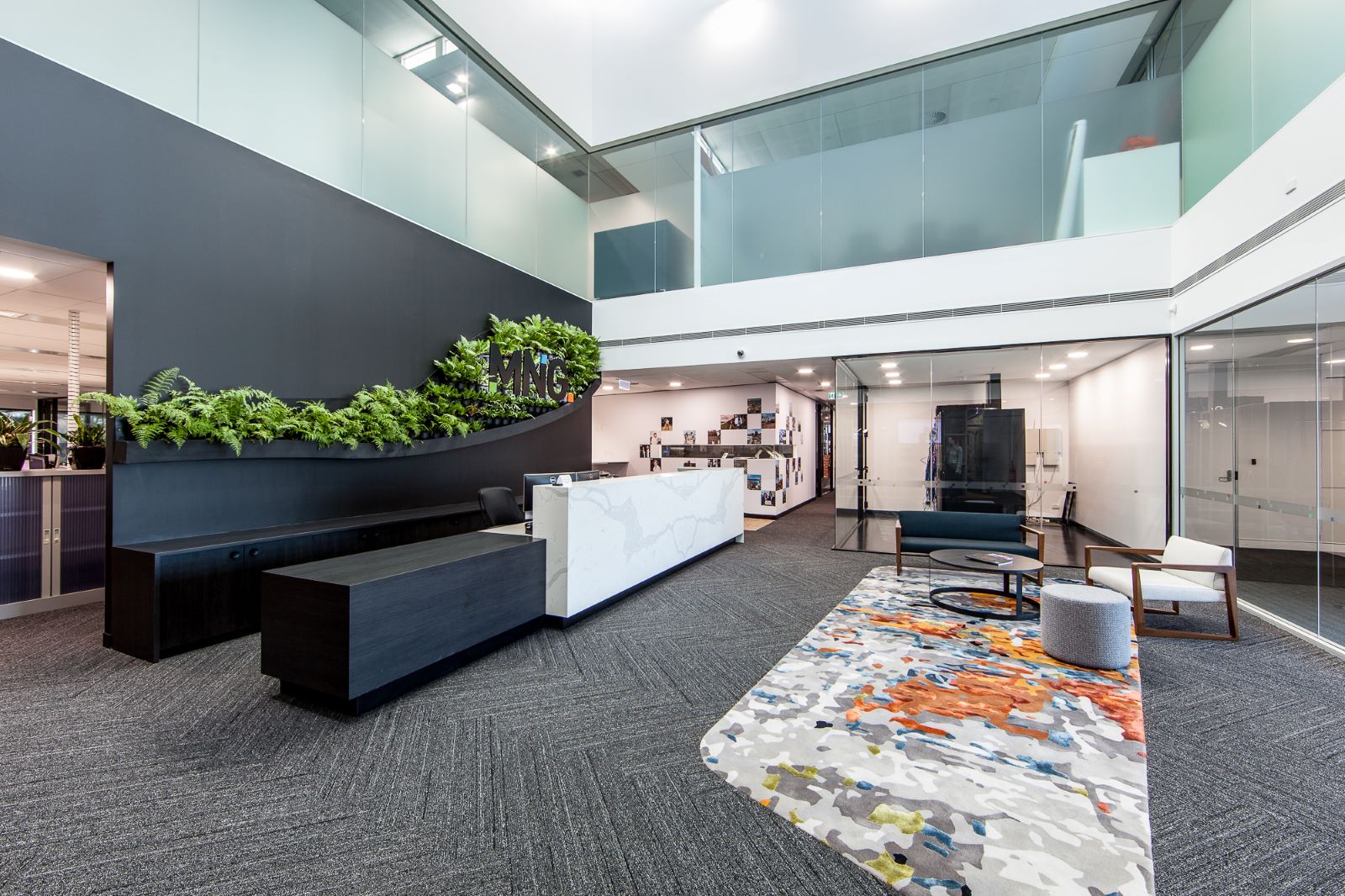 Spending a little time thinking about these points will help when it comes to your planning meeting with Davidson Projects, and will enable us to create an office fitout that suits your business, your workforce, your customers and you. To set up that first planning meeting, give us a call today!