If your office space is in dire need of a facelift, but you have limited time and resources to work with, these simple tricks will help make your workplace more welcoming and stylish.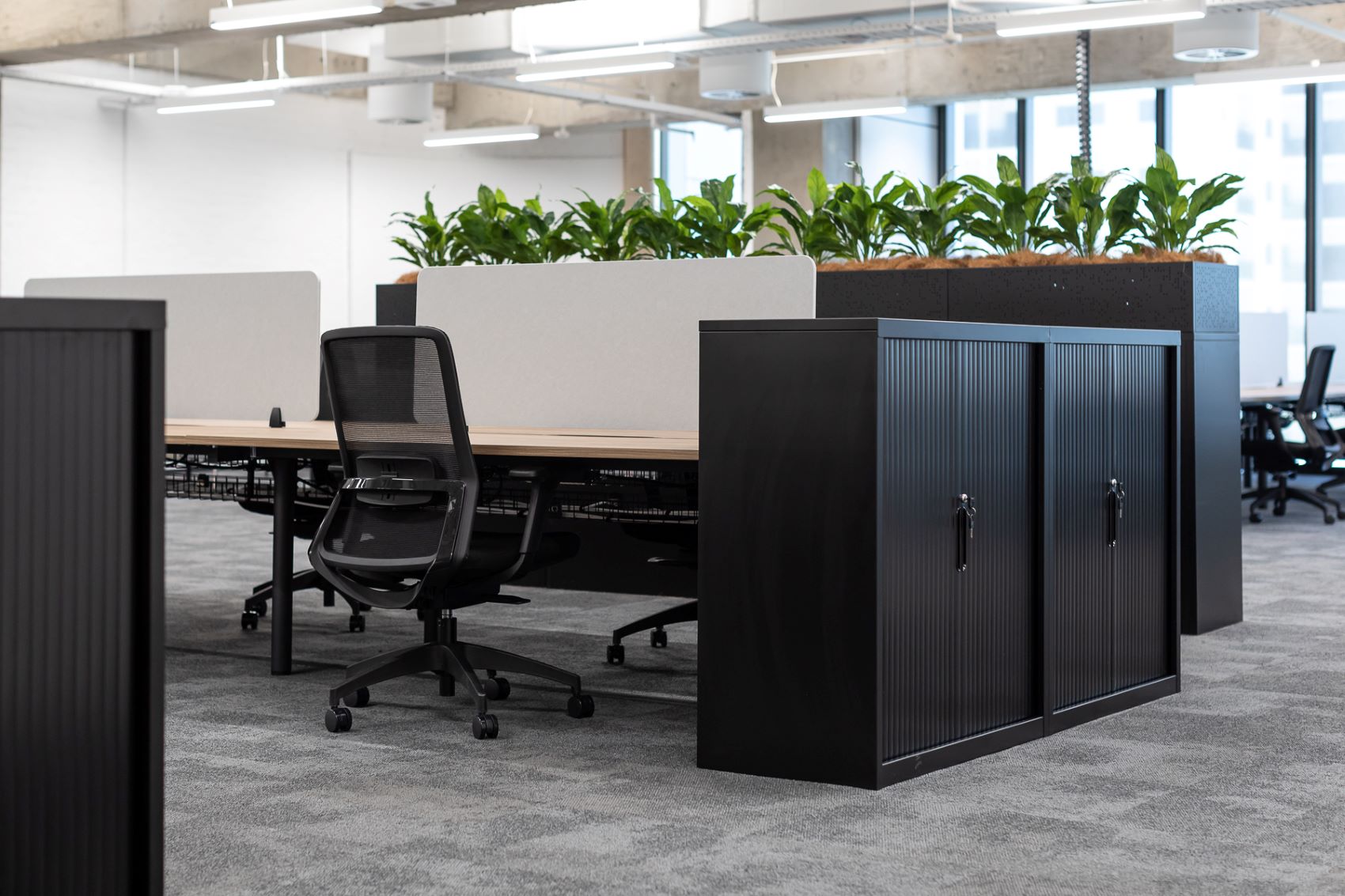 Clever Storage
If your desk is feeling cluttered, or if the whole office is starting to get bogged down with unfiled documents and old paperwork lying around, it's definitely time to invest in some extra storage.
This could be as simple as picking up a few extra filing cabinets, but if you're feeling extra creative, try to think outside the box. A few funky bookshelves \ will more than certainly do the trick, especially if you pop a few boxes inside each shelf so that all of the items you're storing aren't visible.
Alternatively, this may be a good time to consider moving to electronic storage and reducing some of the paper clutter.
The most important thing to consider when you're looking at extra office storage is that it's easily accessible by staff and that you have a sensible organisation system that everyone knows and follows.
Succulents, Flowers, and Lots of Greenery
Indoor plants are renowned for their air purifying and mood boosting that will help make your staff feel more energetic and creative.
A few potted plants or succulents scattered around the office will do the trick, but green walls, especially in reception areas will leave a positive impression on everyone who visits your office. Plus, most vertical gardens come with self-watering systems that will make maintaining the plants nice and easy.
Let There be Light!
There's nothing worse than a dimly lit office, but harsh fluorescent lighting isn't much better. A poorly lit office will likely make your staff feel drowsy and can lead to a deterioration in eyesight over time.
If you can, try to plan your office layout around the windows to make the most of the natural light. However, make sure your screens are positioned away from direct sunlight, as nothing will ruin your staff's productivity as much as sun glare on their screens.
Add a Splash of Colour
A black and white colour scheme might seem more professional, however, if you're working in an arts related field where your business model revolves around creativity, make sure your space reflects this.
Opt for colourful furnishings and brightly coloured decor, and purchase a few key pieces of artwork that will liven up your space – it's that easy!
For any other changes to your workplace, make sure you consult with a professional. Let them know your budget and your main aims for the office refit, and ask for any cost-saving options, which could include things like reusing existing furniture or work stations, among others.
A less than inspiring workspace, or one that makes employees feel uncomfortable or distracted will not only result in a lack of creativity, it will also impact staff's productivity. An aesthetically pleasing space may seem difficult to achieve, but it's really not. So, improve your work area today and start enjoying the benefits tomorrow.